Following updated Government guidance, visitors attending Stadium Tours will no longer be required to present their NHS COVID Pass to gain entry or wear face coverings inside. Visitors who wish to continue to wear face coverings, are able to do so.
The safety of our guests and staff is of the upmost importance and we will continue to uphold the additional deep cleaning measures in place throughout the Stadium, The Dare Skywalk and Tottenham Experience to ensure the highest standards are kept.
Booking a Tour FAQs
Existing Bookings FAQs
Booking a Tour FAQs
How do I book tickets?
Bookings can be made online via www.experience.tottenhamhotspur.com
You can select a date in the future, or select from "next available". If the date you have selected isn't available, it may be because we have an event on that day.
Bookings can also be made over the phone, but an administration fee of £2 is applicable. No fees apply for bookings made online.
Tour times: Tours are available to book according to timeslots up to every 15 minutes.
Tour tickets are now available to book up until May 2022. Dates are subject to change dependent on fixture schedules. Should any changes affect your tour date, a member of the tour team will get in contact with you directly.
Unavailable tour dates: Please be aware that tours do not operate on event days and may run less frequently on the day immediately before event days. For further information about these dates, please see: Major Stadium Event Dates.
What do Tours include?
Explore the world-class Stadium

Behind-the-scenes, exclusive access to First Team facilities, NFL locker rooms and media areas

A chance to explore pitchside and follow the players' journey

A stop at the M Cafe for food and drink refreshments
How long does a Stadium Tour take?
Each Stadium Tour ticket is accompanied by a multimedia device which allows you to explore at your own pace. We recommend leaving up to 90 minutes for a Stadium Tour.
The last stop on your tour will be the M Café where you are invited to take a seat and enjoy an array of hot and cold refreshments. More information on the M Café can be found here.
Visitors who wish to purchase hot food and who are booked onto the last Stadium Tour of the day are encouraged to visit the M Café prior to their tour. After checking in at the Tours desk in the Tottenham Experience, you will be receive a wristband which will grant you access to the M café.
Please note access to the M Café will be via the media entrance adjacent to the ticket office. Please show your ticket or wristband to security on arrival.
Can I come and experience the Stadium Tour and Dare Skywalk on the same day?
Yes, we would love you to experience both attractions. Please click here to book your tickets for each attraction. Please note that tickets must be purchased separately and you will receive a ticket for each attraction. You will need to ensure that you leave adequate time in between each experience.
Check-in for Stadium Tours takes place at the Tours Desk within the Tottenham Experience, which is located on the High Road. Check-in for The Dare Skywalk takes place within Skywalk Basecamp, situated on Park Lane Square behind the Tottenham Experience. It can be accessed via the lift or stairs next to Door 2.
We encourage guests to look around the Tottenham Experience shop if they have time between their scheduled Stadium Tour and The Dare Skywalk experience. There is a bag drop located within the Tottenham Experience for guests to leave purchases and large bags, before taking part in a Stadium Tour or The Dare Skywalk.
Are the handsets easy to use?
Yes, but we're also here to help. You'll be set up with your device by a Tour Guide, and the audio and visual content will be activated automatically along the route. This leaves you to explore at your own pace. Our Tour Guides will be on hand throughout your visit to help, should you have any questions.
All devices will be sanitised between every use and are issued on a rotational basis.
How much are tickets?
The latest pricing information can be found here.
Season Ticket Holders and One Hotspur Members receive a 10% discount on their Stadium Tour.
Also be sure to check out our Family Packages! Tottenham Hotspur Stadium Tours are the perfect day out for the family, and our exclusive price packages offer the chance to book together for the best possible price.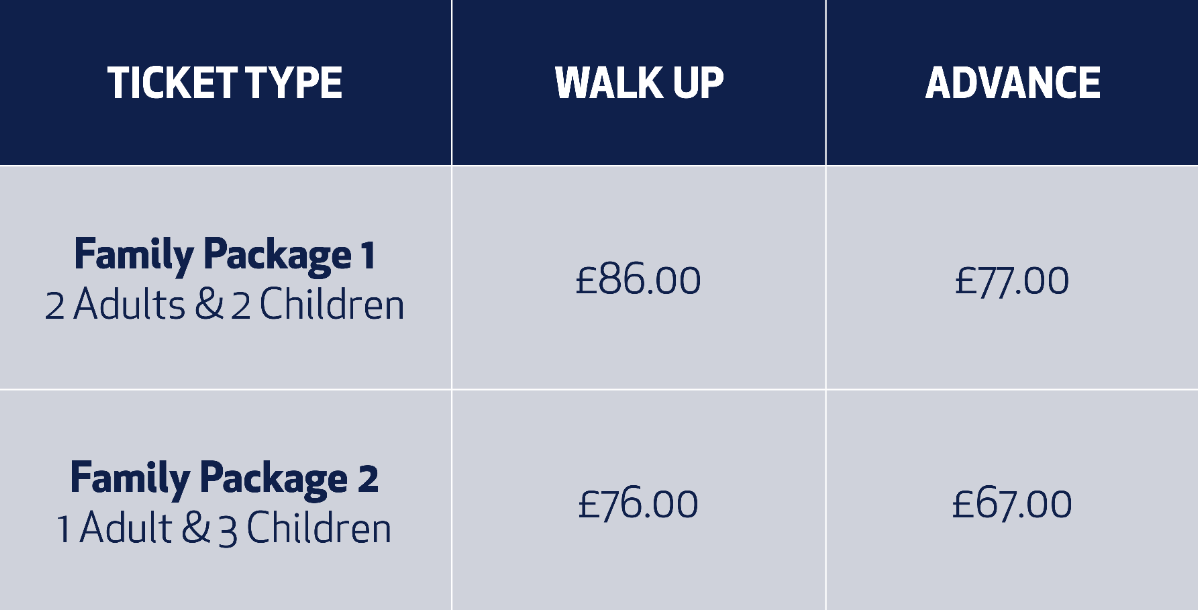 Family package pricing - all other prices can be found on our Tours website
Why isn't the Tour date I want showing?
As we are a working stadium, tours do not run on event days. We currently have tours on sale until September 2022.
Tours have sold out on my preferred date. What are my options?
If your preferred date is unavailable, you are still welcome to book on an alternative date. Stadium Tour tickets on sale until September 2022 and we would advise booking ahead where possible to avoid disappointment. Please note that all dates are subject to change dependent on the fixture schedule. Should any changes affect your tour date, a member of the tour team will get in contact with you directly.
Do you do different types of Tours?
Legends Tours have now launched and are available to book. Bookings can be made directly via our website.
British Sign Language is now a language option available on our handheld multimedia devices. We will soon be adding a number of other different language options to the devices.
What can I expect on a Legends Tour?
This is your chance to join some of our all-time great players on guided tours of our world-class home.
We've a plethora of stars from our storied history, ready to journey with you as you explore the new stadium in all its magnificent glory, taking in everything from the players' state-of-the-art changing rooms to the pitchside dugouts and many more fascinating behind-the-scenes areas.
You'll be able to ask questions to your accompanying Legend as you go, then enjoy an exclusive photograph opportunity, autograph signing session and Q&A with them when your Tour is complete. You will also receive a complimentary post card featuring your Legend included in your Tour
Can I have a photograph taken with my Legend?
We have included an official photograph opportunity at the end of each Legend Tour. To help maintain this we ask that all photographs with your Legend are taken at this opportunity and not during the Tour.
Can I bring items for my Legend to sign?
You are able to bring merchandise for your legend to sign at the end of your Tour.
How long does the Legends Tour take?
The Legends Tour lasts up to 2.5 hours. The experience includes a 90 minute guided tour and a 1 hour Q&A, photo opportunity and signing session.
How can I enquire about a group Tour?
To submit your enquiry, please complete this form and a member of the team will get back to you as soon as possible.
Can I book a Tour voucher?
Existing Bookings FAQs
Can I change the date/time of my booking?
It is possible to change the date of your tour up to 3 days before your visit subject to availability and for a fee of £5. As we'll need to take payment details from you, please give us a quick call on 020 3929 1882. Lines are open 10am-5pm on weekdays and 10am-4pm on Saturdays, and a member of our team will be more than happy to help. Lines are currently closed on Sundays.
If I have tickets booked for a Tour but start so show symptoms associated with COVID-19, can I rearrange it?
Yes. Please send us a message and one of the tours team can help you with your request. Please ensure you specify the reason why you are seeking to rearrange your booking.
Where do Stadium Tours start from?
Stadium Tours start from inside the Tottenham Experience (Spurs Shop) at the check-in desk. There will be directional signage to the check in desk upon entry and the team can also help direct you.
What happens if I am late?
Please arrive at least 15 minutes before the start of your tour to allow time for a bag check and check-in. Tours start promptly at the time listed on your ticket. If you are late, we shall do our best to accommodate you on the next available timeslot, but please be aware that this may not be possible. Refunds will not be given if you are unable to attend your tour due to lateness.
Is photography permitted during the tour?
Yes, we encourage you to take photos throughout the tour. Unfortunately, our tour guides are unable to take photographs for you on your personal device. However, we use green-screen technology that enables you to have your photo taken with your favourite player. These photos are available to buy when you book your ticket or at the end of the tour if you wish. Tripods or drones cannot be taken on tours.
I am having issues accessing my official photos from the visit, who should I speak to?
To download your photos please visit our official photo provider website and enter your Photo code.
If you are experiencing any issues accessing your photo, please click the "Need help?" button for instant troubleshooting and guidance on who to contact for further support.
Can I take my bag on the Tour?
All bags brought into the Tottenham Experience will be searched on entry, as well as any personal bags taken on the tour itself.
Larger bags must be left in our free cloakroom located in the Tottenham Experience.
The following sized bags may be taken onto the Stadium Tour after they have been searched:
Personal bags of A4 size or smaller (21cm long x 15cm high)
Clear plastic carrier bags with a maximum size of 30cm long x 30cm high
Sealable, Club-branded plastic or vinyl merchandise bags purchasable online or from the Tottenham Experience.
We welcome pushchairs and buggies on the Stadium Tour. You may also leave your pushchair in the cloakroom located in the Tottenham Experience.
Do you have baby changing facilities?
Baby changing facilities are available in all toilets located in the Tottenham Experience Shop.
What are the Tottenham Experience opening times?
Back to Top