If you have experienced any problems with your order, we find this is often attributed to an issue with the payment screen.
Please check to ensure you have entered the following details correctly:
Credit / debit card number (no blank spaces are entered in this field)
Valid from / expiry date
The CV2 (three numbers on the back of the card)
The billing address matches the address your card is registered to
Can't pay with American Express
Please be aware that our retail platform does not currently accept American Express as a payment option, so you will not be able to pay for your order directly in this way. However, if your American Express card is linked to your PayPal account, you will be able to use your card by selecting PayPal as the payment type and choosing your card from within your PayPal account.
How to apply a discount code
If you have been sent a code, i.e. a One Hotspur Member code, and would like to apply it to an order, you will simply need to enter the code at checkout.
On your basket summary page, before you proceed to checkout, please enter your code in the 'Add Voucher Number' box provided.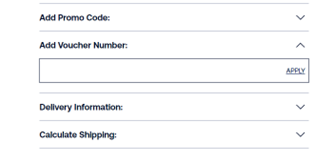 The applicable discount will be applied towards any qualifying items.
Item has been put through at zero value
Please note that if you have selected an item where delivery restrictions apply in the destination country, it will appear on your order confirmation at zero value. You will not be charged for the item(s) and it/they will not be shipped.
I cannot select the size of a product
If you are unable to select the size of a product, please check your browser settings and make sure that JavaScript is enabled.
Should the problem persist, please contact us.
Product is out of stock
Please note that at particularly busy periods high demand items may go out of stock.
We regularly get new stock in and when we do we update our systems to ensure it is reflected online. If you're after a particular item, please check back the following day.
If you still require assistance having read the FAQs above, please contact us.
Back to Top