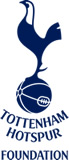 The Club through the Tottenham Hotspur Foundation has a long established, productive and valued partnership with the council and the local community in an area with significant socio-economic challenges such as high unemployment and high levels of crime.
Tottenham Hotspur Foundation was established with £4.5m of funding from the Club and has since attracted more than £2m of additional funding into Haringey for its projects in the past year. The Foundation directly touches the lives of tens of thousands of people across North London.
The Foundation focuses on specialist programmes tackling key social issues:
Improving achievement
Building community cohesion
Promoting healthy lifestyles
Supporting people with disabilities
The Northumberland Development Project now provides a unique opportunity to extend our valued role in the area.
Read more about the work of the Tottenham Hotspur Foundation.
Back to Top